About me
THE DANCE OF THE UNIVERSE – THE UNIVERSE COMMUNICATES WITH COLORS, AND COLORS WITH ENERGY
WE KNOW THAT EVERYTHING IN THE UNIVERSE VIBRATES AT CERTAIN FREQUENCIES.
HIGH VIBRATIONAL ENERGY IS JOY, GRATITUDE, PEACE, AND LOVE.
Marusya Boycheva was born in Gorna Oryahovitsa, Bulgaria in 1975. She worked in marketing and sales for years but knew this career path was not taking her down the road that led to her happiness and fulfillment. In the search for clarity and answers, life began to push her in a new direction to do work as an energy artist, creating art with her hands. Marusya defines her style of painting as metaphysical energy art, entirely intuitive and guided by the energy of the universe. She taps into higher dimensions of the spiritual realm to access this channel of creativity, where she paints from a state of meditation.
In November 2019, an article was written in the magazine Eight, issue 12/2019 that examined the type of energy transformation taking place in Marusya's paintings.
We show pictures of structured energy water from the paintings, photographed under a microscope by the esteemed, Ivan Todorov.
Ivan Todorov's comment: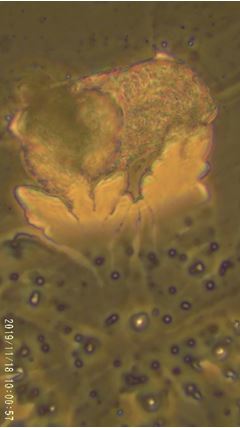 "My meeting with Marusya Boycheva was born out of another manifestation of the energy of the new age of Aquarius, which turns more and more ordinary people into artists. In the colorful sails of Marusya come to life overflows in colors, spheres, symbols and images. They create a sense of magic and remind me of the infinity of the universe and of life. Staring at Marusya's energy paintings, one quickly senses harmony and the captivating rhythm of the infinite dance of the universe. From them, there is a stream of light that energizes each cell of the human body with vital and healing energy. And while this spontaneous painting is not created according to the strict rules and principles of fine arts, it finds its way to more and more human hearts, tired of the hectic rhythm of our day."
Comment and study I. Todorov – radiator and researcher of changes in the structure of water.
In August 2021 Marusya was certified by the Research Center for Medical Biophysics in Sofia, Bulgaria.
In September 2021. a study was done - Coronal Spectral Analysis of a picture of Marusya. The study was done by Prof . Ignatov from the Scientific Research Center of Medical Biophysics (SRCMB), Sofia, Bulgaria -09/2021